Livia Vipereschi: the Foundress
Livia Vipereschi was born in Rome on December 14, 1606 to Muzio and Clarice Aragonia. She was baptized on the 21st in the Church of S. Marco. She had two siblings: Francesco Maria, born in 1605, and Francesca born in 1608. Her parents died during her childhood: her father died in 1612 and her mother in 1619. In 1613 she received Confirmation in S. Giovanni in Laterano Basilic.
     Her paternal and maternal aunts and her uncle Monsignor Marcantonio Vipereschi and the Jesuit Virgilio Cepari guided her in her human and spiritual formation. From a young age, she was destined to marry her cousin Valerio Vipereschi, son of Scipione and Agnese Massimo, but the marriage was not performed due to the young man's death. In the course of a serious illness, which led her to a step away from death, she felt grow inside the desire to embrace religious life. She revealed her intentions to Father Cepari, who advised her to live her vocation by remaining in a state of laity and engaging in prayer and works of charity.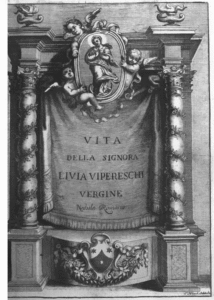 In 1621, her sister Francesca entered into the Benedictine Monastery of S. Maria in Campo Marzio. In 1632, her brother died unexpectedly. She remained alone and moved to the residence of her maternal aunts Olimpia and Cilla, near S. Maria Maggiore, in front the Cappella Paolina.
A few years later her aunts also died: Olimpia died in 1637 and Cilla died in 1640. She then began to welcome poor, needy, unsafe and abandoned women. Her behavior open to the most disadvantaged people united her to emerging figures of religious Rome at the time, in particular to Anna Moroni, who received young women in need, orphans, marginalized and founded with the help of the parish priest of S. Maria in Campitelli, Cosimo Berlinsani, the Congregation of the Conviators of the SS. Child Jesus. Livia felt the same compassion for every person in pain.
She presented her charity project to the Vicariate. She appropriately kept her intentions of "detachment from the world" from quietistic influences, which were emerging in spiritual environments. Under the guidance of her new spiritual director, jesuit Ferdinando Zappaglia, she began to write the diaries of her "spiritual enlightenment", she separated her mystical experience from the practice of quietism and worked to unite her contemplative life to the encounter with the suffering people.
She rejected the comfort coming from her aristocratic state, turned towards a humble and austere style of life, intensified her prayers, assiduously approached the sacraments, multiplied practices of mortification, participated in works of ecclesial matrix. In the years of maturity she lost her sight.
From her religious piety and her incessant commitment of charity were born the Conservatory of the "SS. Conception", near San Vito's Arch in 1668 and the Conservatory of the" Rifugio and of Santa Maria della Clemenza", in Sant'Egidio square in 1669. Both welcomed poor girls to protect and educate them.
The first Conservatory adopted the Carmelite rule, remained under the guidance of Livia until her death on December 6, 1675, depended on the authority of the Vicegerent of Rome and had as spiritual director the parish priest of S. Martino ai Monti.
The second was donated by her to the parish priests of Rome.
In 1677 her body was exhumed from the common burial in the "Conservatory SS. Concezione" and was found uncorrupted. She was placed in a new coffin and buried under the floor of the Church of the Immaculate Conception, inside the Conservatory, on the "side of the Epistle", on the right looking at the high altar. The notary Jeremiah De Rossi drew up the document of the successful transition and named Livia with the title of Servant of God.
At the end of the century, the scholar Prospero Mandosio commemorated her for her culture and her uncommon christian virtues.
Her memory is still present today in the Conservatory she founded, located in Via dell'Arco di S. Vito, 10.
Taken and traslated from: Domenico Rocciolo, Il «distacco dal mondo» di Livia Vipereschi, nobildonna romana del seicento.
Short Bibliography
Mandosio, Bibliotheca romana sev romanorum scriptorum centuriae, II, Romae, typis Francisci de Lazaris, 1692, pp. 311-312; C. B. Piazza, Evsevologio romano overo delle opere pie di Roma, II ed., Roma, Domenico Antonio Ercole, 1698, pp. 197-198; I. Orsolini, Vita della signora Livia Vipereschi vergine nobile romana, fondatrice del Conservatorio delle Zitelle dette dell'Immacolata Concezzione della Beatiss. Vergine presso l'Arco di San Vito di Roma, Roma, per Francesco Gonzaga, 1717; P. Zovatto, Vipereschi (Livia), in «Dictionnaire de spiritualité», 16, Paris, Beauchesne, 1994, pp. 919-920; E. Patrizi, Formare donne disciplinate lontane dai pericoli del mondo. Il caso del Conservatorio della Santissima Concezione di Roma, detto delle 'Viperesche' (1668-1869), in Eventi e studi scritti in onore di Hervé A. Cavallera, I, a cura di H. A. Cavallera (= «Paideia», 70), Lecce, Pensa Multimedia, 2017, pp. 239-254; D. ROCCIOLO, Livia Vipereschi nobildonna e mistica romana del Seicento di prossima pubblicazione nella «Strenna dei Romanisti» e Livia Vipereschi e i suoi conservatori nella Roma nel Seicento in corso di stampa in «Claretianum».