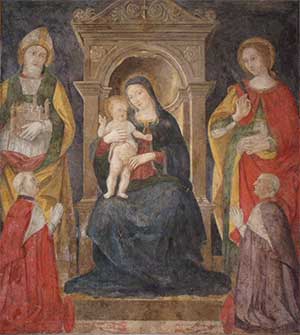 The cardinals Domenico (left) and Angelo Capranica (right) in the fresco by Antoniazzo Romano Madonna with Child, a holy bishop and Saint Agnes, in the chapel of Sant Agnese.
Direction of A.C. Capranica
The high management of the CTF is the responsibility of the Episcopal Commission for the Almo Collegio Capranica, nominated by the Pope. 
Rector of A.C. Capranica
The Rector of the Almo Collegio Capranica represents the Episcopal Commission in the ordinary conduct of the CTF and in presenting the Director of the CTF.
Director of CTF
The immediate responsibility is entrusted to a Director, chosen among the ex-students of the CTF. She is presented by the Rector and appointed by the Cardinal President of A.C. Capranica, after hearing the Episcopal Commission.
Board of the Director
The Director can use the advice of some students regarding the fundamental aspects of the training proposal and those aspect concerning the organization of common life.
Spiritual assistant
The spiritual care is provided by a priest, proposed by the Rector of the A.C. Capranica, in agreement with the Director of CTF, and approved by the Cardinal President of the Episcopal Commission of the Capranica College.